Animal Health Clinic of Wheeling
Dedicated to your pet.
Welcome to the Animal Health Clinic of Wheeling.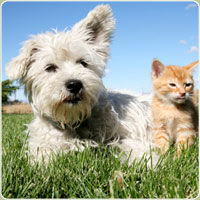 Dr. Vladimir Shapiro, DVM
145 S Milwaukee Ave
Wheeling, IL 60090
Phone (847)459-0909
Fax (847)459-9944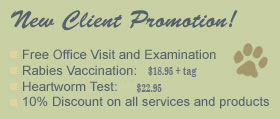 New Client Promotion:
Free Office Visit and Examination
Rabies Vaccination: 18.95 + tag
Heartworm Test: 22.95
10% Discount on all services and products
Did you know? Riva and Salty were two guide dogs who saved their owner's lives just before the World Trade Centre collapsed. They guided their blind owners, Mr. Roselle and Mr. Hingson, down the crowded, smoke filled stairs from the 71st floor and were later honored for their bravery.

© Pet Assure Corp., the pet insurance alternative