Animal Health Clinic of Wheeling
Dedicated to your pet.
Welcome to the Animal Health Clinic of Wheeling.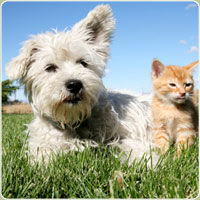 Dr. Vladimir Shapiro, DVM
145 S Milwaukee Ave
Wheeling, IL 60090
Phone (847)459-0909
Fax (847)459-9944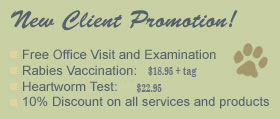 New Client Promotion:
Free Office Visit and Examination
Rabies Vaccination: 18.95 + tag
Heartworm Test: 22.95
10% Discount on all services and products
Did you know? Oreo C. Collins, a cat from Macon, Ga., earned a "high school diploma" from Jefferson High School Online. His owner took the tests with Oreo on his lap to publicize fraud in online degree programs.

© Pet Assure Corp., the pet insurance alternative